Spotlight On...
Alma's is hosting our second annual Summer Spotlight series, offering a platform for local experimentation.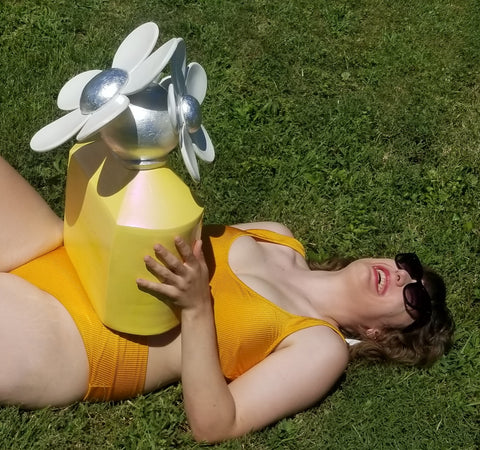 EXPERIMENTAL WORKS
For the second year in a row, Alma's is spending the summer surrounded by the excitement of fresh new ideas. Our summer Spotlight Series is dedicated to offering a platform for local artists reaching for new heights in their own studios. This summer we are so excited to welcome Richmond artists Chelsea Lee, Anna Showers Cruser and Rice Evans.
JUNE 15 - JULY 2 : Chelsea Lee
JULY 6 - July 23 : Anna Showers-Cruser
September 14 - October 15 : Rice Evans
Kicking off our summer spotlights is Chelsea Lee. Chelsea is an artist currently living in Richmond, Virginia. She was born in Bismarck, North Dakota, and grew up in an artist's home. Lee earned her MFA from Virginia Commonwealth University in 2017, where she received a graduate assistantship for three semesters. She graduated with a BFA from Minnesota State University Moorhead in 2010. Lee's work has been exhibited in the InLight exhibition with 1708 Gallery exhibition in Richmond, Virginia, the Ann Arbor Art Center, the Plains Art Museum in Fargo, North Dakota, and the Minneapolis Institute of Art. She is a recent recipient of the Studio Access Residency at the Visual Art Center of Richmond and a Make Art Work resident at Studio Two Three. Lee currently teaches art at Virginia Commonwealth University and John Tyler Community College.
Chelsea Lee 
Artist Statement
I'm the kind of person who accidentally gets sucked into the Internet, my face washed with the sick blue light of screens. I know I shouldn't tell anyone about this. This is not good. It's nothing to be proud of. But sometimes, it's all I want to talk about. Maybe it's something I need to confess. 
Recently much of my work is collaging and replicating imagery of memes, popular culture figures, and internet trends in a series I call Infinite Scroll. This work illustrates our obsessive consumption of online content and how it moves between us on the Internet. The performances and sculptures of Infinite Scroll probe the highly edited beauty and sexuality presented on the Internet, pushing the boundaries of what is good in search of what lies underneath the perfectly edited public persona. These translated pop icons, cosmetic accessories, and communication tools mutate into mixed media sculptures that blend analog materials, such as textiles and ceramics, with digital media.
My dedication to pop culture is driven by a desire to believe that these pop icons offer something real to believe in. Embedded in my work is a personal understanding of the addictive quality of Internet culture. Is there an amount of beauty, wealth, and fame that allows a person to feel safe from the pain of feeling less than? This deep, obsessive consumption of pop culture on the Internet offers the religion that might help us transcend our ordinariness, and I'm ready to confess my sins.