Frequently Asked Questions & Shop Policies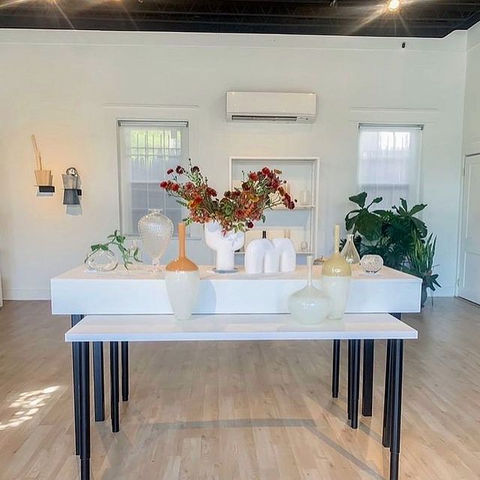 Do you ship?
Yes - many items in our online store can be shipped anywhere in the US. However, larger or more fragile items are available for local pickup only. Each product page will note whether an item is available for shipping.
Are the items online available to see in person?
Yes! All of the items in our online store are also available in our shop. If you're eyeing something online, but want to see it in person, come in and visit us any time during our shop hours.
Do you offer layaway?
In many cases, we are able to offer customers layaway. Layaway items require a deposit and monthly recurring payments thereafter. All layaways must be completed by the end of the calendar year in which it began. Each layaway's specific details will be worked out between the customer and Alma's, so please reach out to us if you'd like to talk about layaway for a specific piece.
Do you accept returns?
Due to the nature of how we compensate artists, it's not possible for us to take returns. While there are some exceptions that can be made within a short period of time, we ask that you consider all purchases final.
Who is Alma?
Alma was Sarah's grandmother whose dinner rolls inspired a respect for the inherent, tactile knowledge that comes with mastering a craft. Like many craft traditions, Alma was shown how to make bread and then repeated the process until it was a combination of muscle memory and understanding of material rather than instruction or recipe. Like any well crafted object, her dinner rolls were nearly magical. Something that delighted, but also fed you; something that was as useful as it was delicious.
Do you offer gift cards?
Yes, gift cards make a great gift for the art lover in your life. You can pick up a gift card in our store, or you can purchase one in any denomination online and we'll ship it to you for free.
I'm an artist - how do I get my work featured in Alma's store or in an exhibit?
We accept submissions for consideration on a rolling basis. Please contact us for further information. almasrva@gmail.com
How do you pay artists for their work that you sell?
We take a 50% commission on all pieces sold at our store. Artists are paid within 30 days of the piece's purchase. Prior to putting a piece in our store, you will be provided with a written agreement where we'll determine the amount of time we will showcase the piece, and how the piece may be represented while in our possession.
Do you purchase wholesale craft?
We do purchase some wholesale production work, however, we are selective with these items. If you are interested in having your production work featured in our store, please contact us with more information about your work.