Leo Tecosky
Alma's is thrilled to announce Tecosky's latest public art commission.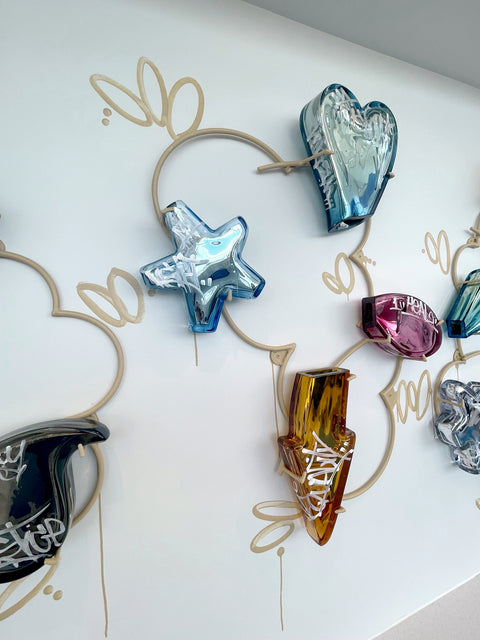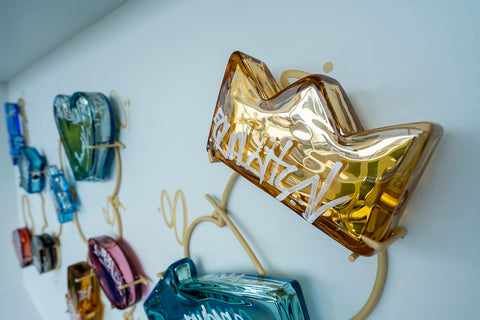 JEWELZ
This year has been incredible for Leo Tecosky, rightfully so. Alma's is thrilled to share the news that has been in the works since his solo exhibition in Fall of 2021. Leo has been working on his largest install to date and one that will be in great company as part of the CHKD Children's Pavilion public art collection.
Jewelz is now up in Norfolk and is a shimmering beacon of hope and healing. His jewel-toned sculpted forms take shape as arrows, hearts, thought bubbles and crowns. Enameled to their surface, Tecosky stylized tags reading fundamental elements of  justice; equality; freedom; health; hope; knowledge; love. His messaging aligns perfectly with the Hospital's and Jewelz has found a perfect home.
This piece was commissioned by Children's Hospital of the King's Daughters and is on view on the 9th floor of the newly opened Children's Pavilion. CHKD is the leading children's hospital in southeastern Virginia and the only free-standing children's hospital in the state. 
Want to learn more about Leo? Look for an article on him in the Summer 2022 edition of American Craft Magazine. Hip Hop Glassblower was written by Susie Silbert, the curator of postwar and contemporary glass at The Corning Museum of Glass. In the article, Leo is quoted: 
"What we make are the physical manifestation of our ideas and our connection to the world around us. This is the alchemy of changing sand into a transparent material that then I can perform my own alchemy on and create another thing. It's pretty mind-blowing, this transformation. I realize that I have long been trying to grab onto that word, transformation. Transforming silica into things, transforming my interests into new things, transforming myself via all this knowledge that I'm acquiring, transforming people's minds by turning this information into something else, an object. It's what the Bible and the other great books talk about: transforming from birth to heaven or from birth to your next life."
See an interview with Leo about his piece, Jewelz HERE.