Behind the Scenes with Leo Tecosky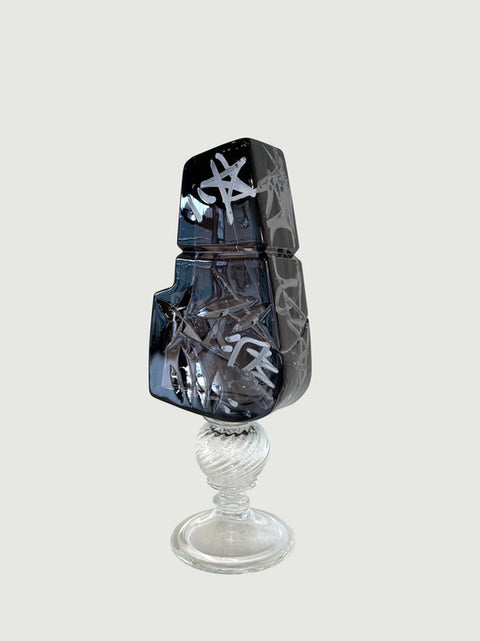 EXPERIMENTAL WORKS
In November 2020 Sarah (Alma's), Leo (artist) and Charlotte (Barry Art Museum) were on a facetime call to decide which of Leo's pieces were to be acquired by the museum. While circling 2 museum quality pieces showing all the bravado and indicating where Leo is headed in his studio the group landed on a piece, strategized and developed a plan for 2021. Leo might have forgotten to mention that 2021 was going to be a big year for him, he may not have known yet.
The Barry Art Museum acquired "Granat, 2017" in December of 2020 and we had a solo-exhibition set for Fall 2021.
Over the summer, Leo and Sarah touched base again. This time we connected with our friends at The Chrysler Museum as well so we could all share the Leo Love and make the most of his Autumn trek from Brooklyn. Leo hinted that something big was brewing. It was to be a secret for several months but it couldn't have been better timed for his show here at Alma's. 
Months fly by when your studio is busy. Leo worked harder than he let on and dropped off some very exciting new works to Alma's before jumping right back on the road with his family in tow to Norfolk where he went straight into daily demonstrations and mentorship at the Chrysler Museum's Perry Glass Studio. Also on Leo's agenda for Norfolk, a meeting for a large-scale commission slated for 2022.
Leo's show overlapped the Glass Art Society's SPARK event that was taking place in Norfolk so we were thrilled to welcome board members, collectors and meet the curators and collectors making Norfolk such an exciting glass scene. At the very close of Leo's show it was (finally) announced that he was the 2021 recipient of the Rakow Commission awarded through the Corning Museum of Glass.
The Rakow commission is a $25,000 commission granted to an artist who shows promise in the field of Contemporary Glass. The money is used to support an ambitious work that will become a part of the Corning Museum's permanent Collection. His work was unveiled in December of 2021. Congratulations, Leo. We are so thrilled for this well earned success that 2021 has brought and can not wait to see what happens in 2022 (we know it is going to be great).