Spotlight Artist:
Amy Chan and Debbie Quick, Richmond, VA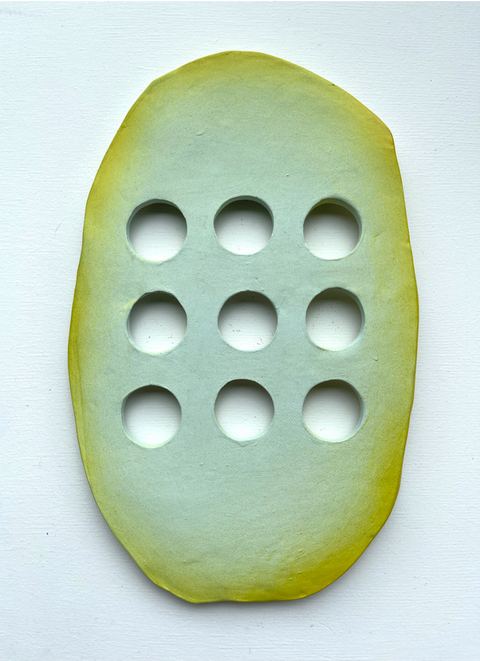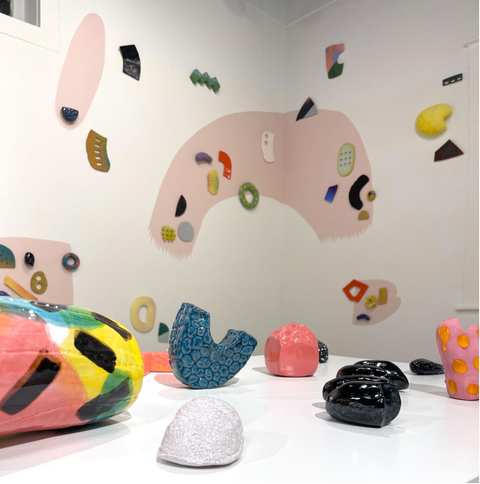 Alma's is always excited for the opportunity to shine a spotlight on new and experimental work being made right here in town. Throughout July - October 2021, we are casting a spotlight on a series of local artists. For the limited duration of their spotlight month Alma's will be hosting their work in the space. We can't wait to introduce you to these pieces!
Amy Chan and Debbie Quick are two Richmond artists whose practices have been merging together over the last year. Curious about the dark humor in the world around them, Amy and Debbie have paired up to make a new body of work. Pulling from Chan's examination of cheap plastic goods from familiar culture and pop nostalgia and Quick's interest in how physical environments impact empathy, they are mashing up fragments of microorganisms and pop culture imagery to form sculptural object installations.
Their site-specific installation is on view at Alma's through September, 2021. In addition to the composition created in the space, viewers will find a specimen table and other oddities available to purchase.
Amy Chan is a painter who uses a curated language of shapes to create curious abstract compositions.   Chan's visual language draws heavily from outside sources including natural forms, funny food shapes , decorative pattern, tools and electronics.  Color is an indulgence into the realm of kitsch, digital nostalgia, plastics and vaporwave.  Travel to unusual landscapes is an important part of her research and she has been Artist-in-Residence at Onoma Fiskars in Finland, the Jentel Foundation in Wyoming, Petrified Forest National Park and The Studios of Key West.  Her work has been shown widely in galleries including Pierogi 2000, Wave Hill and The Washington Project for the Arts.  She received a Pollock Krasner Foundation Grant in 2011 and a Virginia Commission for the Arts Fellowship in 2013.
Debbie Quick, the owner of clay ground LLC., is an artist and educator with over 20 years of instruction and art-making experience. She received her B.F.A. in ceramics with teaching certification from Tyler School of Art at Temple University and her M.F.A. in ceramics from the School of the Arts at Virginia Commonwealth University. Since 1999, she has taught in public schools, provided private lessons, coordinated and participated in community programs, taught ceramic classes, and instructed at the undergraduate and graduate level. She has received the following residencies; Soaring Gardens, the Rodin Artist in Residence at the Virginia Museum of Fine Art, Studios at MASS MoCA, Monson Arts, a Fiskars. Quick was the inaugural 2017-18 faculty research fellow in the Arts Research Institute at VCUarts. Her work has been shown regionally and internationally, including as part of the Tasmeem conference in Doha, Qatar. Recent solo exhibitions were "Remnant Accumulation" at Sediment Gallery, Richmond, VA and "Errant" in the Up Front Gallery at ArtSpace, Raleigh, NC.