Battuto Veronese Vase : Shimmer, 2021
Regular price

$3,000.00
Sale price
Pickup currently unavailable
Artist
Artist Location
Exhibition
Material
Blown, carved and polished glass
Dimensions
Weight
Share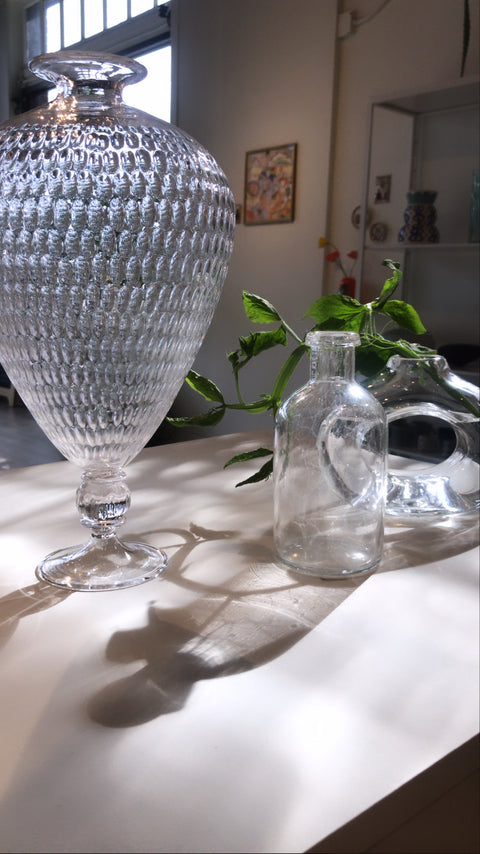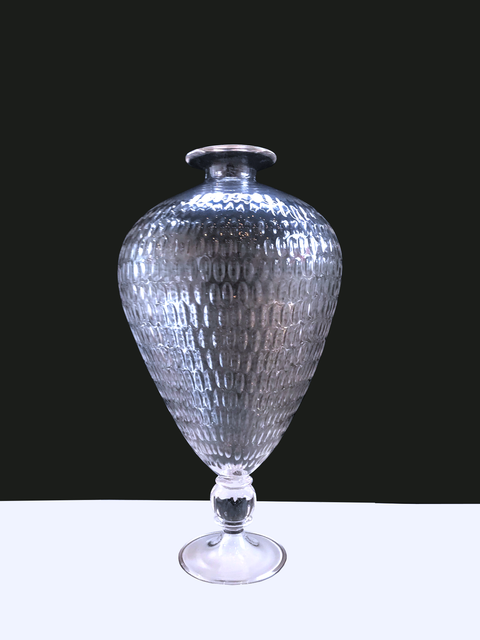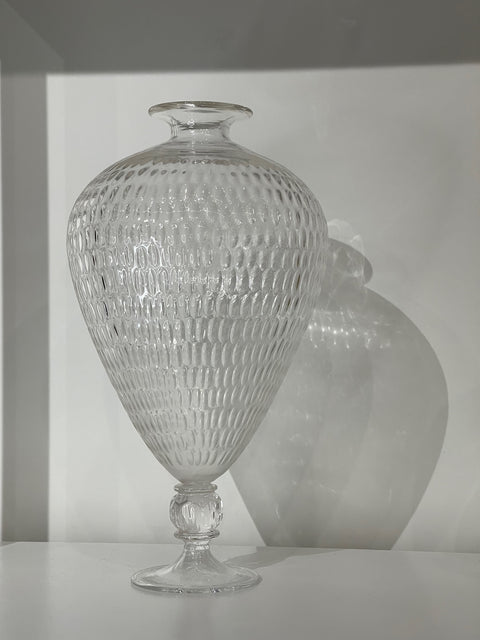 The Veronese Vase. Glass enthusiasts will recognize this famous form that has been both the subject of debate and a marker of excellence. Everyone else, please allow me to very briefly introduce you to this vase which carries almost 500 years of intrigue. We see this form first depicted in 1578 by Paolo Veronese in his painting The Annunciation. Then designed in 1921 by Vittorio Zecchin for Vetri Soffiati Muranesi (V.S.M.) and Cappellin Venini & C., who manufactured this gorgeous object for the first time in 1923. Revisited by many artists over the last 100 years, we are THRILLED to present this version by Nanda Soderberg in 2021.

Shimmer, 2021 by Nanda Soderberg is a hand blown Veronese vase that has been carved and fire polished. The form clearly looks at Venini and seeks to set itself apart with the artist's signature love of surface.

This Vase was on view at Alma's as a part of our VASE exhibition.

Nanda Soderberg. Soderberg earned his BFA in Glass from the University of Hawaii in 1998 and MFA from Virginia Commonwealth University in 2007. As well as keeping a professional art practice, Nanda has taught at Virginia Commonwealth University, California State University Fullerton, Fresno Pacific University, Cleveland Institute of Art, Pilchuck Glass School, Haystack School of Crafts, Urban Glass, Penland School of Craft, and Pittsburgh Glass Center. 

Nanda currently lives in New Hampshire where he teaches glass blowing at St. Paul's school. He finds joy sharing with others the infinite possibilities of working with glass.

Thanks to the Corning Museum of Glass and UrbanGlass NYC for the reference materials!
Every handmade piece at Alma's is a story of its craft.