Radical Jewelry
raising awareness of the connection between mining, metalsmithing, activism, collaboration and art.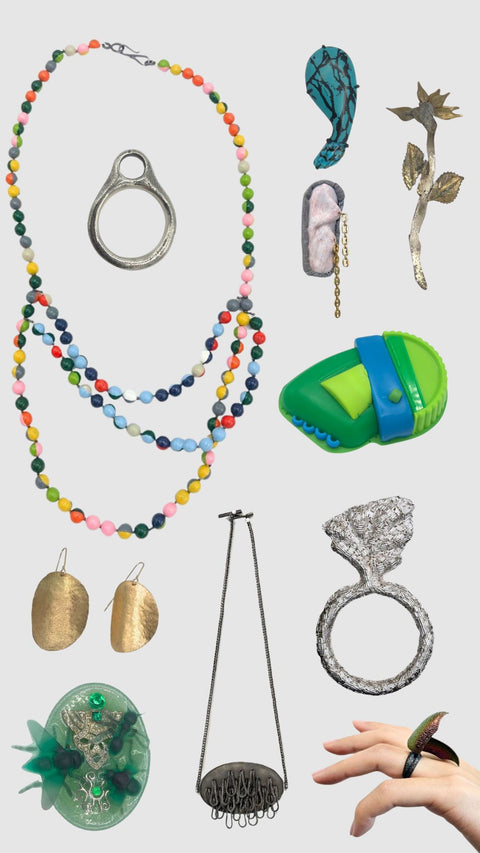 ETHICALLY MADE
Alma's is pleased to welcome The Rejewelry Competition following it's initial opening during New York Jewelry Week. This juried competition features work from 21 international artists all of whom have created work from completely recycled materials.
The aim of this competition and RJM is to raise awareness and boost encouragement of ethical, sustainable practices.
About RJM
Radical Jewelry Makeover (RJM) is Ethical Metalsmiths' innovative community mining project. It raises awareness of the connection between mining, metalsmithing, activism, collaboration and art. It involves volunteer "miners," "smelters," "refiners," jewelers, and metalsmiths working together to create a new and transparent supply chain. The project is both performance and event, linking recycling, reuse and collaborative work sessions with the creation of unique, innovative, handmade jewelry, concluding with an exhibition and reception. The project was designed and developed by Christina Miller and Susie Ganch and is now directed by Susie Ganch and Kathleen Kennedy.
The Rejewelry Competition Details
Following the call-for-entry period, applications were juried by artist and project lead, Sarah Parker and artist and gallery owner, Sarah Mizer of Alma's. The selected applicants then purchased RJM donation materials through a private Rejewelry webstore link to create a suite of jewelry (3+ works per artist). The works by all selected applicants will travel to NYC during November of 2023 for a group RJM Exhibition. Following the NYC exhibition of works, Alma's will host a December pop-up of the Rejewelry Competition works in Richmond, VA. The competition award winner will be announced at the reception in NYC. They will receive a solo exhibition opportunity at Alma's and will be invited into the RJM Artist Project as an ongoing participant in RJM Artist Project's further related opportunities. 
*All competition works will be available for purchase during the exhibition and pop-up. Artists will receive the standard 50% of any sales made during these two events.
AWARDS: 
The competition winner receives a solo exhibition at Alma's in Richmond, VA, as well as, an invitation to join the RJM Artist Project, which has ongoing exhibition opportunities. The competition winner and owner of Alma's, Sarah Mizer, will work together to schedule a solo exhibition at Alma's. This solo exhibition is slotted for January 2025.