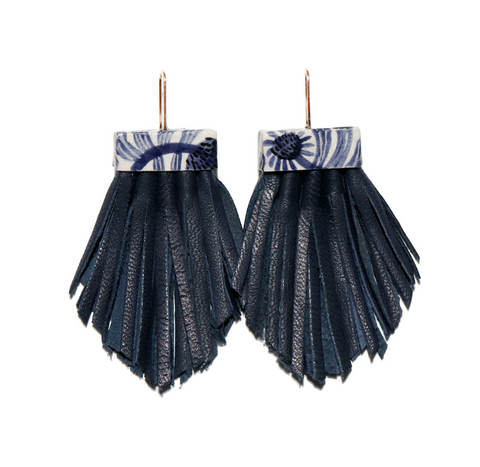 These specialty color Tassel Cage earrings are made by a lovely Richmond based artist Hali Emminger, the mastermind behind her brand, Hechizo. This earrings feature hand painted terracotta caps which secure buttery soft indigo leather tassels.
Tassel Cage Earrings are big and bold but nice and light to be wearable all day. The ear wires are 14K gold-filled. Total length is approximately 3" long.
Combining ceramics, metals and textiles into items made to adorn, Hechizo pieces are the mementos of Hali's deep interest in materials and processes. Hechizo designs elevate somewhat less-precious materials such as ceramic cabochons set like gemstones - nodding to the value of the hand-crafted. The daughter of a carpenter and granddaughter of two generations of tailors, Hali enjoys carrying on a tradition of handcrafting objects made to be used, worn and appreciated.
Every handmade piece at Alma's is a story of its craft.